Back to the Index page
Lesser Twayblades near Goathland
Lesser Twayblade (Listera cordata) is an uncommon little orchid with a north-western distribution in Britain, growing mainly in Scotland, but extending as far south as the North York Moors. (Click on the picture left to get a larger image.) There are old records of it in several scattered sites, including around Goathland. Three of us decided to track it down...
This is a delightful corner of the moors, with deep little gills containing native woodland dominated by oak, birch and rowan, with bilberry, rushes and mosses underfoot. The becks tumble over rocky beds and waterfalls, and some of them have orange iron-stained water and stones in the bed.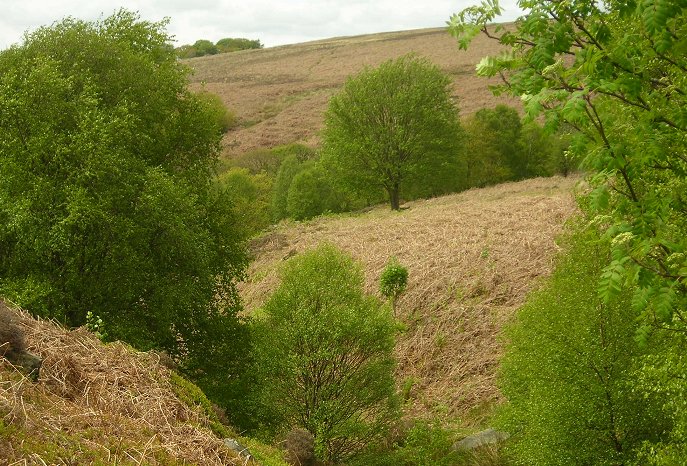 After several dead ends and searching in the wrong place – and some ambiguous instructions such as "grows underneath the waterfall" – (it wasn't here!) – we finally found two flowering spikes of the twayblade.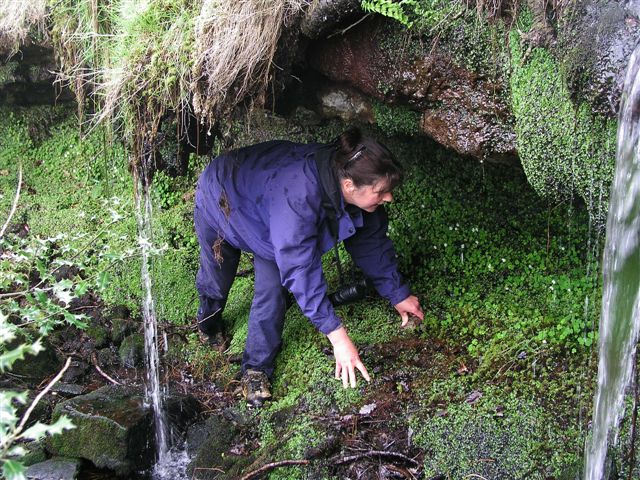 I was amazed at how tiny and delicate it was, barely 3" (7cm) tall, quite unlike its larger and rather robust relative, common twaylade (L. ovata). This caused considerable trouble when trying to photograph the plants without disturbing them; anyone passing would have had a good laugh at the sight of three grown women down on their hands and knees in wet moss and dead leaves! Once we had got our eye in we spotted several non-flowering plants, that looked for all the world like seedlings with their two roundish bright green leaves. They are so hard to find (see centre of photo below where there is a little group of about 5 plants, with more above and to both right and left) I suspect this species may not be quite as rare as it seems.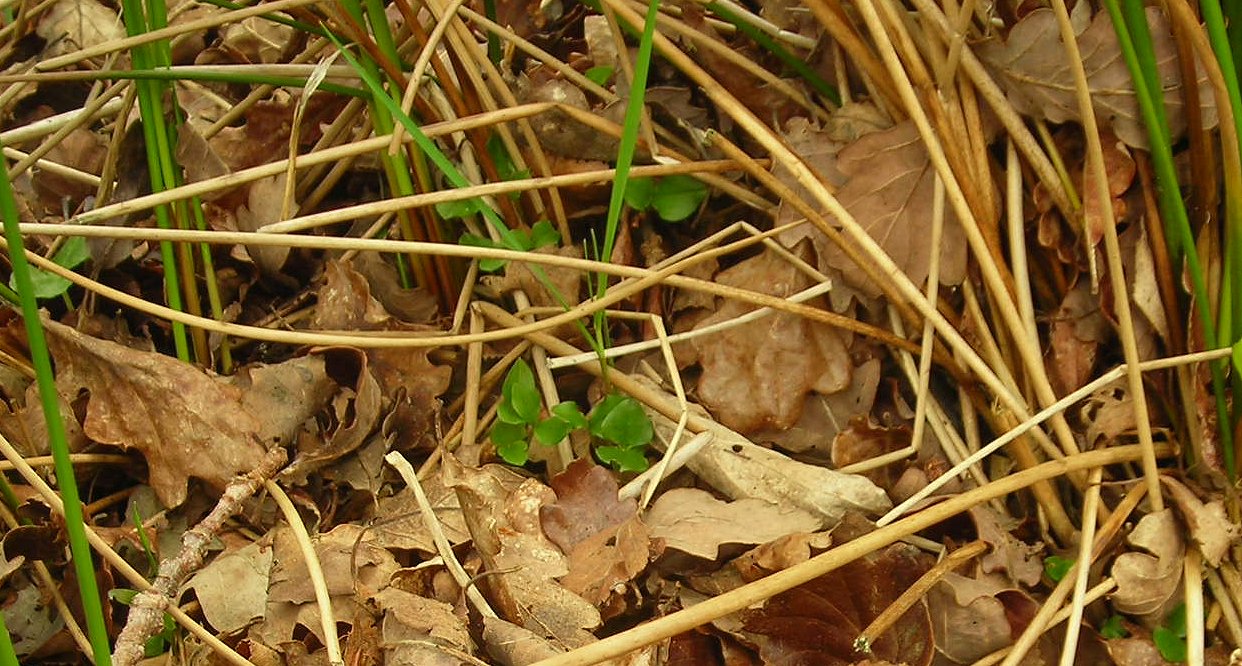 The flowers themselves were very beautiful when viewed through a lens – sadly the photos don't really do them justice. If I'd realised just how tiny they were I would have lugged the big SLR camera with macro lens over the moor.
Epilogue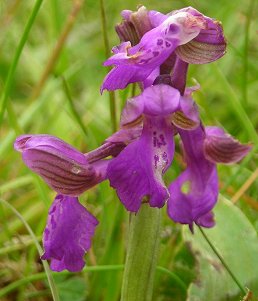 Just to complete a very successful day we had a quick trip to the Hole of Horcum on the way home to check on the green-winged orchids. We found two dwarf spikes, one in bud and another just in flower [pic], but we were a little early. (Also there are sheep in the field, so there may not be a good display of orchids this year!). The heavens opened as we went up the bank to see the dwarf cornel, so although it was in flower I didn't risk getting the camera wet.
---
© Gill Smith 17 May 2009. Pictures © Gill Smith & Nan Sykes 2009
Back to the Top, Trip index and Ryenats home pages