Back to the Index page
Sandsend 13 October 2007
Eight members attended this field meeting at Sandsend on a rather misty, grey day (never mind, it wasn't cold and didn't rain!) – which is my excuse for the poor quality of the pictures. When we arrived the tide was well out, exposing the wave-cut platform in the lower Lias rocks of Jurassic age – we didn't see any dinosaurs though. There were a fair number of gulls on the rocks, with oystercatchers and a couple of curlew (very difficult to spot against the rock and seaweed), and cormorants and shags flying low over the water. We also saw two dark ducks with white wing patches that we decided were wigeon.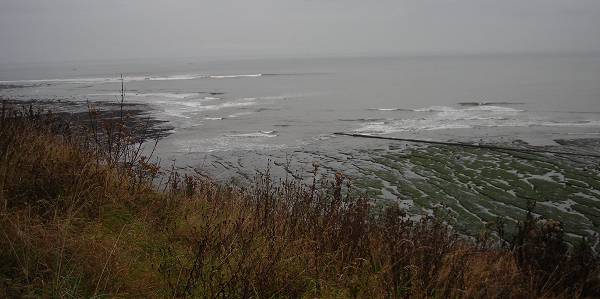 Plants
This was not primarily a botanical trip, but there were still a few plants in flower, including common mallow beside the steps leading up from the car park to the old railway line. The mallow was growing in a dwarfed, compact form though with flowers of normal size, presumably as a response to the salt-laden wind coming off the sea. Other colourful species, mainly yellow or pink/purple, were catsear and gorse (below), red clover, red campion and late bell heather. We also noted that the ballast of the old railway supported many plants of stagshorn plantain (Plantago coronopus also known as buckshorn plantain), mostly very dwarfed and growing flat to the ground.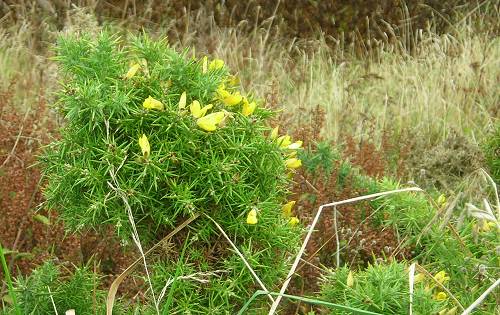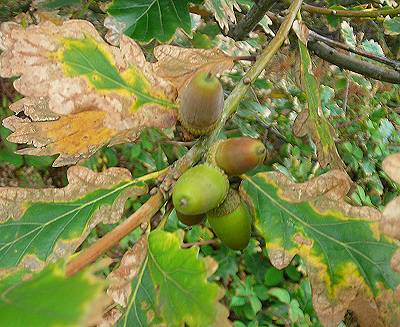 Many other plants had gone to seed such as most of the heather, valerian, roses, wood sage and scrub oak. It was interesting to see this, as it was the sessile oak Quercus petraea rather than the one with stalked acorns which is more usual in Ryedale (Pedunculate oak Q. robur). As well as the stalkless acorns the leaves were longer, less lobed and with the base tapering more gradually to the stalk when compared to Q. robur.
Fungi
There were several fungi spotted along the way, including some beautiful tiny ones. Unfortunately they were almost impossible to photograph in the dull light...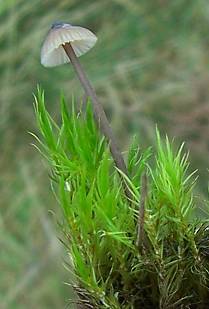 We were lucky to have our recorder, Rhona, with us. It was wonderful to watch her recording by drawing detailed sketches of all the specimens seen, with information on such features as the shape and size of the cap, its colour and texture, any rings present on the stipe (stalk), the substrate and all the other information it is important to gather in order to identify fungi to family and species level. The only ones I recognised were a puffball and shaggy ink-cap, which had some very interesting coral-pink tiny maggots on its stipe – which scotched any idea of gathering it for the kitchen! The delightful little mushroom on the left, only about an inch and a half tall, is Mycena galopus or milkdrop – what a curious name!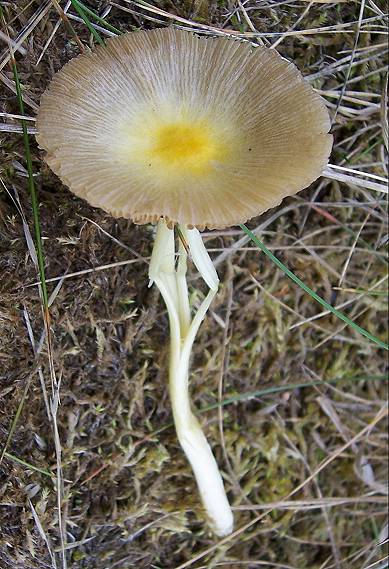 We found several of these small toadstools with bright yellow centres and rather fragile stipes. There were also some large mushroom-like agarics, later identified as horse mushrooms, which seemed to be in a giant if rather uneven fairy ring.
Rather more unexpected was a specimen of the slime mould Flowers of Tan, also known as the dog- or cat-sick fungus (see photo below) – although it is not strictly speaking a fungus as the slime moulds or Myxomycetes are now classified as a separate group.

Slime mould "Flowers of tan" Fuligo septica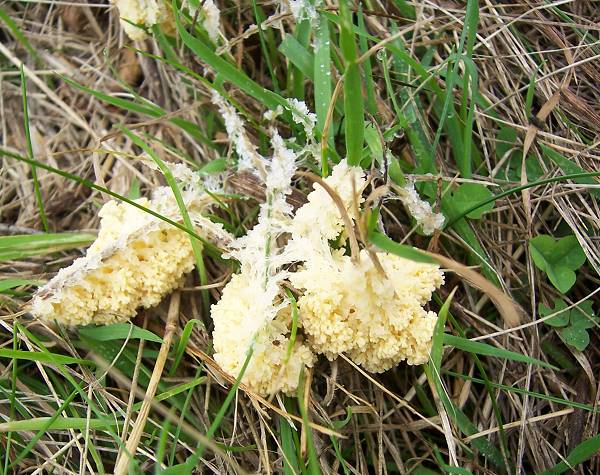 Rhona recording a small yellow toadstool (to the right of her hand)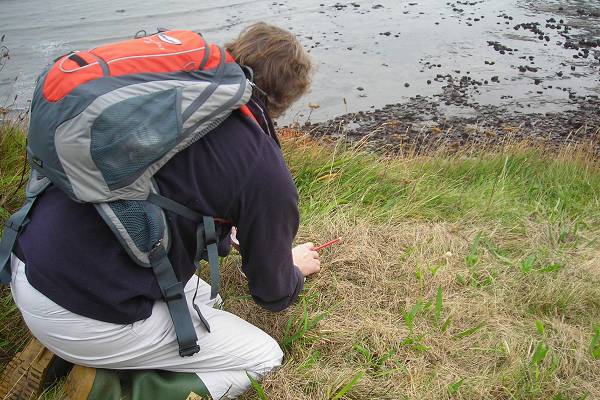 Looking down from the cliffs onto the foreshore we noticed that there were a number of almost circular pools several feet across, and also rather less clearly visible matching gentle domes in the rocks. We are not sure of the origin of these, but it is likely they are linked to the original deposition of the sediments which made the rocks.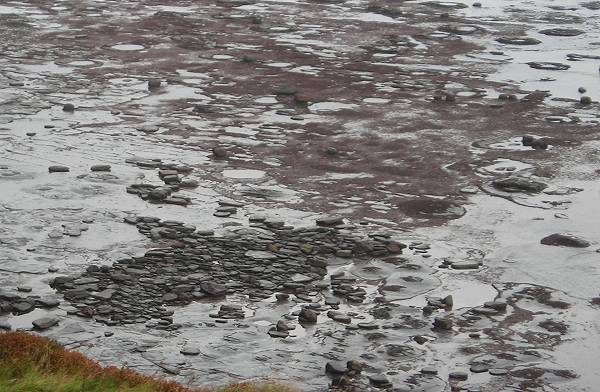 The old railway runs along the coast, with views both out to sea and inland over the old alum quarry and rough ground. The birders were interested in both: out to sea there was a "raft" of the wigeon floating on the water as well as rock doves, jackdaws and crows flying round the cliffs; inland were small birds such as robin, wren, blue-tit and hedge sparrow. We were also lucky enough to see a pair of stonechats on the scrub and gorse just here. Further along where the railway enters the tunnel we spotted a grey wagtail beside the stream that is culverted under the line.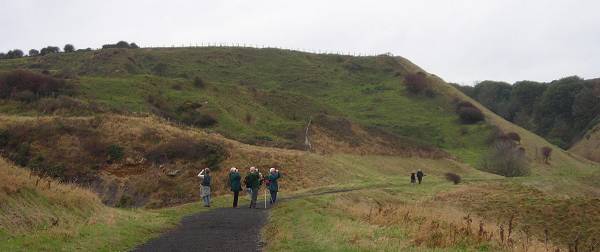 After walking along the railway as far as the tunnel entrance we returned to the car park, and ended the trip with lunch at the excellent Wit's End café. Jim spotted some rock pipits and a red-throated diver on the water just before we thanked Janet and wended our way back across the foggy moors to Kirkby.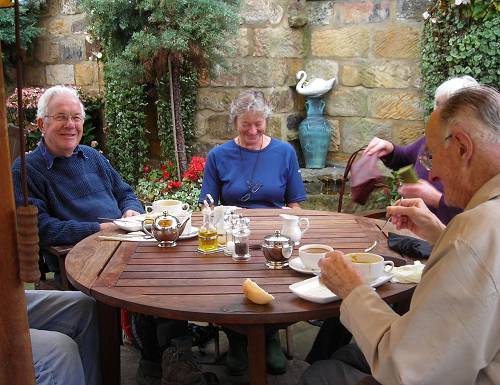 Insects
We did not see many insects, though I did spot at least three red admirals and two speckled wood butterflies (these were small, I don't know if this is characteristic of late examples of this species). The highlight was two (possibly three) big dragonflies hawking over a water-filled ditch and every so often having an aggressive territorial dispute. I think they were male Southern Hawkers (Aeshna cyanea), with green and black markings on the thorax and front part of the abdomen but blue and black bands near the tail. Unfortunately they never settled so there was no chance of a photo.
Birds
Tom points out:
the calm sea and no wind meant no passage sea birds were seen, and that is what I had hoped for.
the still conditions over the previous few days meant migrants were unlikely. If we had been on the coast at the end of September it might have been very different.
Thanks to Jim for the list below:
Red-throated Diver, Cormorant, Shag, Wigeon, Oystercatcher, Curlew, Dunlin, Black-headed Gull, Herring Gull, Greater Black-backed Gull, Lesser Black-backed Gull, Common Gull, Auk sp., Kestrel, Rock Dove (feral), Pheasant, Red-legged Partridge, Rock Pipit, Pied Wagtail, Grey Wagtail, Robin, Dunnock, Wren, Blue Tit, Carrion Crow, Jackdaw, Blackbird, Goldfinch, Linnet, Stonechat (m + f)
Fungi
| | | |
| --- | --- | --- |
| Latin name | English name | Substrate |
| Fuligo septica | Flowers of Tan | grass verge |
| Agaricus arvensis | Horse mushroom | grass verge |
| Bolbitius titubans | Yellow Cow-pat Toadstool | grass verge |
| Coprinus comatus | Shaggy inkcap | grass verge |
| Coprinellus micaceus | Glistening ink cap | grass verge |
| Hygrophoropsis aurantiaca | False Chanterelle | grass verge |
| Mycena galopus | Milk drop | grass verge |
| Panaeolina foenisecii | | grass verge |
| Tricholoma sp? | | |
| Lycoperdon pyriforme | Stump puffball | grass verge |
Thanks to Rhona Sutherland.
---
Text © Gill Smith 2007. Photos © Gill Smith, Jane Smyth 2007