Back to the Home page
Ryedale Natural History Society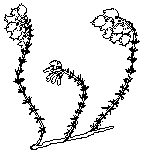 Programme for 2017 – see below for the indoor and outdoor meetings respectively.
The Society was formed on 2nd December 1963 and is based on the administrative district of Ryedale in North Yorkshire. It is responsible for almost 1200 one-kilometre squares with Kirkbymoorside at an approximate centre. Our area is roughly defined by the northern watershed running from Black Hambleton to Saltersgate; the Whitby to Thornton-le-Dale road to the east and the drove road along the edge of the Hambleton Hills to the west. Our southern boundary is less easy to describe but generally includes the Howardian Hills as far as Malton and the Kirkham Gorge, following the 70 grid line.
There are approximately 60 members and the Society has seven indoor meetings, usually on the third Tuesday of the month in Kirkbymoorside, and at least four outdoor trips during the year. New members are always welcome (please contact the Secretary, Pauline Popely, or just come to one of our meetings).
The current subscription is £10 per single member, £15 per family.
We publish Newsletters, annually in recent years. Dr. Michael Thompson has recently donated two bound volumes of the newsletters 1998-2004 and 2005-2008 to the archives of the Ryedale Folk Museum. They are now available for reading in Ryedale Folk Museum library. We would like to thank Michael for this generous donation.
We are affiliated to the Yorkshire Naturalists' Union (YNU), and have a list of YNU Field Excursions.

January 17th
Recorders' Reports for 2016 & Members' Projects
Ryenats Recorders
February 21st
Work on Duke of Burgundy & Pearl Bordered Fritillary Butterflies
Joint Meeting with Ryedale Beekeepers' Association
Dave Wainwright (Butterfly Conservation)
March 21st
Wildlife around Sutton Bank
Ian Thomas
April 18th
A Future for Hen Harriers and the Upland Landscape
Aimee Nicholson (RSPB)
October 17th
Bats
Nick Gibbons
November 21st
AGM and Dormice
Ann Hanson (Mammal Society)
December 19th
Back Garden Bumblebees and Solitary Bees
Bill Hall
January 16th 2018
Recorders' Reports for 2017 & Members' Projects
Ryenats Recorders
Indoor meetings are held in the Methodist Hall, Kirkbymoorside, at 7:30pm.


---

April 23rd
Ancient Trees in Duncombe Park
meet Waterloo Gate SE584814 2:00pm
Brian Walker
May 7th
Dawn Chorus, Roulston Scar
meet White Horse Bank Top SE517814 5:00am
Keith Gittens
May 20th
YWT Appleton Mill Farm
meet SE746880 2:00pm
Ellen Fairbank
June 17th
Ellers Wood/Brewster Hill
meet Hazel Heads car park SE531927 2:00pm
Jim Pewtress
June 25th
Chalkland flowers at Fordon Banks and Wharram Quarry
Joint meeting with Hull Naturalists and YNU
meet near Foston TA 051752. 10:30am
Gill Smith
July 15th
Butterflies at Bull Ings, Cropton
meet Cropton High Street SE756889 2:00pm
Pauline Popely
July 29th

Moth Trapping CANCELLED
Joint meeting with Cleveland Naturalists' Field Club
meet Wrelton High Street SE764861 8:00pm
Pauline Popely
August 2nd
POSTPONED to 9th Aug
Searching for Purple & White-letter Hairstreak Butterflies, Manor Vale
meet Manor Vale SE693871 5:00pm
Jim Pewtress
September 3rd
Staveley YWT NR
meet SE369630 10:30am

Keith Gittens
October 14th
Cropton Forest Fungus Foray
meet SE752909 (on W side of road) 2:00pm
Rhona Sutherland

Extra meetings may be arranged throughout the season.
For further details please contact Pauline Popely.
YNU Field Excursions 2017
| | |
| --- | --- |
| VC64 May 20th | Beecroft Plantation and Thackray Beck, near Timble |
| VC65 June 10th | Freeholders and St. John's Wood, Aysgarth |
| VC61 July 8th | Eastrington Ponds |
| VC62 July 22nd | Saltburn by the Sea |
| VC63 August 19th | Dunford Bridge |
For further details see http://www.ynu.org.uk/events/

Links to other interesting wildlife sites
Back to the home page
---
© Ryedale Natural History Society 2017.
Site maintained by maintained by APL-385. Page last modified 31 December 2017