Back to the Index page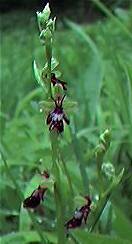 Pry Rigg May 23rd 2000
[Species lists are given below]
About a dozen members joined the trip to Pry Rigg, a very good turn-out considering the unkind weather: it was wet and cold, but we had a good day, led by Don Buckle and Gordon Simpson, with Jim Pewtress and Nan Sykes on hand to identify the birds and plants respectively. The area is forested, with a mixture of coniferous and broadleaved trees, but there are also clearings with a meadowland flora, and an old quarry which proved particularly rich. The area is mostly on limestone, although there was one slope which was on more acid soil, and the difference in the ground flora was striking, being dominated by ferns rather than herbs such as bluebells and/or wild garlic and dog's mercury.
Don explained how over the years some of the trees have been felled and the resulting clearings managed for conservation, In one particular case a single specimen of herb paris appeared, and has now multiplied to cover an area several yards across. This unusual plant (left)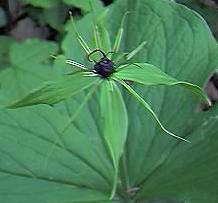 was in full flower, and it was heartening to see it thriving here. Similarly the area around the old quarry has a wonderful colony of fly orchids (picture above, right), and later in the summer pyramidal orchids also flower there; and we saw several patches of lily-of-the-valley, one of which was flowering splendidly (detail, right).

Don also showed us the site where Bird's nest Orchid (Neottia nidus-avis) was found flowering last year – now there was nothing to be seen except bare earth in deep shade under conifers. This curious plant has no chlorophyll, growing with the aid of a fungus feeding off dead wood. Apparently it favours hazel or beech, which is curious as neither was growing nearby. It is hoped that another flower-spike will appear this year.

There were very few insects about, although we did see a small weevil on Figwort; also there were few birds about, no doubt because of the weather. We saw various fungi, including rust fungi on bramble, dog's mercury and creeping thistle plants; and some unusual small galls on birch leaves.
---
Birds
We saw or heard:
Goldcrest, Chaffinch, Jay, Blackcap, Bullfinch, Woodpigeon, Blackbird, Song Thrush, Dunnock, Robin, Chiff Chaff, Willow Warbler.
Back to the Top
---
Plants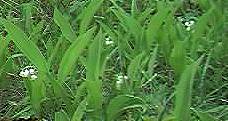 The list below is split into those plants seen in bud or flower, those where only leaves were seen, non-flowering plants (ferns, mosses and liverworts), fungi, grasses and sedges and trees. It is not a complete list of all the plants seen, for instance I did not list all the common species present. I have not listed all the grasses or sedges but have included the easily recognised ones. Nor have I listed trees in any detail. We saw one horsetail (Equisetum sp.), probably marsh horsetail ((Equisetum palustris).
Plants in Flower


There were over 50 plants in bloom, mostly the species you would expect to see in woodland on neutral or limy soil (e.g. the fly orchid left), with a few preferring more acid conditions, such as the lemon-scented fern and bilberry, and several "weeds" such as the mouse-ear or wintercress, both of which were growing on the side of a forestry track.

Back to the Top



Fungi
We did not see many fungi, but there were some interesting ones, including rust fungi on different plants, for instance creeping thistle. This particular fungus goes through several stages in its life-cycle, one of which produced an orangey powder and a strong smell which some members thought was like honey and pleasant, and others found strong and unpleasant!
Ferns, Mosses and Liverworts
Ferns, mosses and liverworts form a related group of "primitive" plants that reproduce with spores rather than flowers and seeds. There were plenty of ferns in the wood, but they were mostly male fern or common buckler fern, with a good number of hard ferns along the path-sides. We found a couple of lady ferns and a few lemon-scented ferns, the latter indicating relatively acid soil conditions. Some of the mosses were identified, and we saw two liverworts as well, growing in amongst the moss