Back to the Home page
Kirkdale Woodland Flowers
16th April 2016
Species lists below
A dozen members and guests met on a chilly but mostly sunny afternoon (following heavy sleety showers in the morning!) in the overflow caer park at Kirkdale, which was incredibly muddy. The original plan was to walk past the church, over the river and towards Hold Cauldron; however, following several wet days the river level was far too high, so we reverted to Plan B and went down the road to the ford and old quarry, then followed the footpath upstream on the east bank, returning the same way. We saw plenty of wildflowers but the birds were curiously silent (probably sheltering from the cold wind) and there were very few insects or spiders in evidence.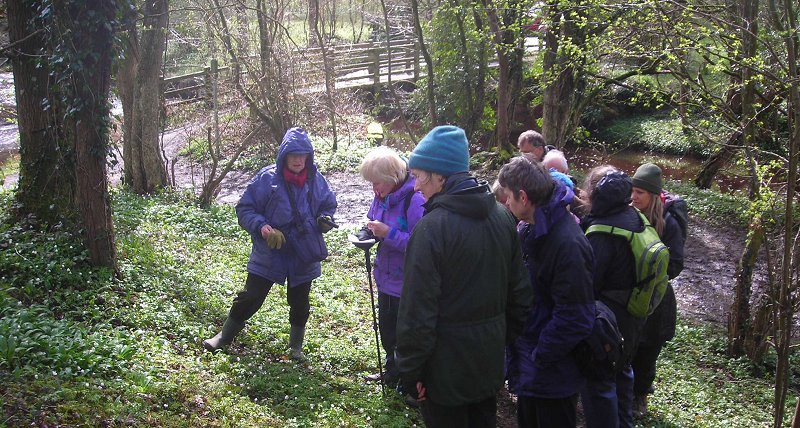 I said last year for the Sinnington trip "2015 has been a strange year weather-wise: although we did not have a particualrly severe winter spring has been generally cold, but dry. Most of the plants – and notably the trees – are late. The woods were still in their winter clothes with the leaves only just beginning to break, and hoped-for blossom such as cherry was not yet out." – which sums up 2016 as well except it has not been notably dry.

On the verge of the lane leading down to the river we spotted one or two sweet violets, the leaves of yellow archangel and a good spread of the delightful town hall clock or moschatel Adoxa moschatellina, a curious little plant that indicates relatively undisturbed conditions. And, right on the riverbank, the day's prize, Yellow Star of Bethleham Gagea lutea.

We then spent a considerable time exploring the old quarry (noting the remaining part of the famous "Hyaena cave" and the extraordinary ability of trees to cling to the vertical cliff and thrive). There were many clumpos of pimroses here, including one with 6 petals – our Ryedale plants do not read the books. It is particualrly interesting that this sport only affects one of hte flowers on the palnt. We noted the difference between "pin-head" and "thrum-head" flowers. In the pin-head form the female pollen-collecitng part of the flower, the style, is above the male pollen-producing anthers and seen at the centre of the flower; conversely in the thrum-head the cluster of anthers is visible with the style further down. This is to avoid or at least discourage self-pollination. All the flowers on one plant are of the same type.


We then returned to the riverbank where we saw toothwort just coming through (below). This is a parasitic plant growing on the roots of broad-leaved trees, usually hazel. It does not have green leaves and the flowerheads emerge suddenly in the spring.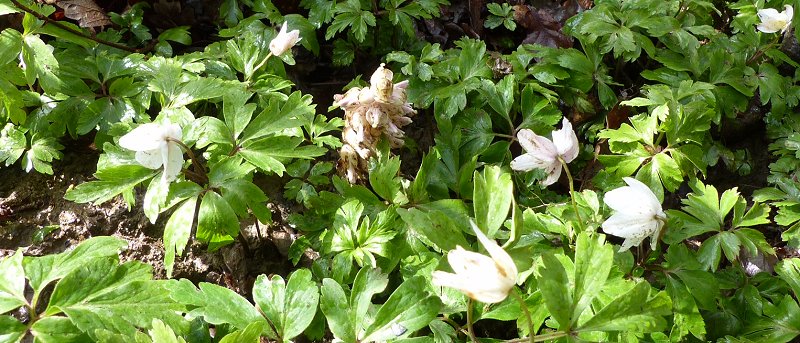 We continued a little way along the footpath, and enjoyed the typical woodland flora such as these windflowers Anemone nemorosa carpeting the hillside along the way...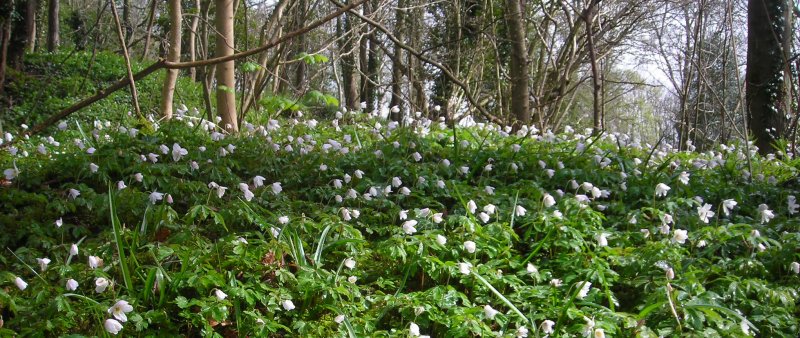 ...but as it was steep and slippery we called it a day and returned to the cars. We did spot one tall spike of early purple orchid almost out, and a few yards further on a small group showing colour.
One or two intrepid members opted for an extension into the field beside the church where we saw a few daffodils, a single oxlip in flower and the leaves of various species including crosswort and the uncommon wood stitchwort which flowers later in the summer. We also noticed some unusualy marked leaves of meadow buttercup with dark blothces in the centre (but sadly no-one took a photo, partly because at this point the heavens opened.)
Back at base we had to push many members' cars out of the mud, but all got away safely after a most enjoyable afternoon.
---
Plant list
Many of the plants were only seen in leaf, and this is probably not a complete list.
| Latin name | Common name |
| --- | --- |
| Acer pseudoplatanus | Sycamore |
| Adoxa moschatellina | Moschatel or Town hall clock |
| Alchemilla sp. | Ladys mantle |
| Allium ursinum | Ramsons |
| Alnus glutinosa | Alder |
| Anemone nemorosa | Wood anemone |
| Anthriscus sylvestris | Cow parsley |
| Arum maculatum | Lords and ladies |
| Betula sp. | Birch |
| Cardamine flexuosa | Bittercress, wavy |
| Chrysosplenium oppositifolium | Golden saxifrage, opposite leaved |
| Conopodium majus | Pignut |
| Corylus avellana | Hazel |
| Crataegus monogyna | Hawthorn |
| Cruciata laevipes | Crosswort |
| Fraxinus excelsior | Ash |
| Gagea lutea | Star of Bethlehem, yellow |
| Galium aparine | Cleavers |
| Geum urbanum | Avens, wood |
| Glechoma hederacea | Ground ivy |
| Hedera helix | Ivy |
| Heracleum sphondylium | Hogweed |
| Hyacinthoides non-scripta | Bluebell |
| Ilex aquifolium | Holly |
| Lamiastrum galeobdolon | Yellow archangel |
| Lapsana communis | Nipplewort |
| Lathrea squamaria | Toothwort |
| Larix sp. (L. decidua) | Larch |
| Lonicera periclymenum | Honeysuckle |
| Luzula campestris | Woodrush, field |
| Mercurialis perennis | Dogs mercury |
| Myosotis sylvatica | Forgetmenot, wood |
| Narcissus pseudonarcissus | Wild daffodil |
| Orchis mascula | Orchid, early purple |
| Potentilla sterilis | Strawberry, barren |
| Primula vulgaris | Primrose, common |
| Primula x polyantha | False oxlip |
| Prunus spinosa | Blackthorn |
| Quercus sp. | Oak |
| Ranunculus acris | Buttercup, meadow |
| Ranunculus auricomus | Buttercup, goldilocks |
| Ranunculus ficaria | Celandine, lesser |
| Ranunculus repens | Buttercup, creeping |
| Rosa canina | Rose, dog |
| Rumex acetosa | Sorrel, common |
| Sanicula europaea | Sanicle |
| Silene dioica | Campion, red |
| Stachys sylvatica | Woundwort, hedge |
| Stellaria holostea | Stitchwort, greater |
| Stellaria nemorum | Stitchwort, wood |
| Taraxacum sp. | Dandelion |
| Taxus baccata | Yew |
| Tilia cordata | Lime, small leaved |
| Urtica dioica | Nettle, common |
| Viola odorata | Violet, sweet |
| Viola reichenbachiana | Violet, early dog or Wood dog |
Fungi
Thanks to Melanie for this list:
Psathyrella sp., probably P. spadiceogrisea which is associated with ash, another smaller grassland species of Psathyrella, Jelly ear (Auricularia auricula-judae), the rust Puccinia lapsana on Nipplewort leaves and the blue-green wood-staining Green Elf Cup (Chlorociboria aeruginascens) on fallen wood, and a bracket fungus on alder (unfortunately on the wrong side of the river so we couldn't examine it.
Birds
Thanks to Jim and Keith for the bird list:
Woodpigeon, Carrion Crow, Chaffinch, Robin, Treecreeper, Nuthatch, Great Tit, Chiffchaff, Blackbird, Great Spotted Woodpecker, Wren, Long-tailed tit, Blue tit, Coal Tit, Goldfinch.
Invertebrates
These were conspicuous by their absence. Jim reported just two immature Pardosa sp. spiders.
---
| | |
| --- | --- |
| © Ryedale Natural History Society 2016, Photos © Gill Smith, Keith Gittens, Pauline Popely 2016 | Back to the Home page |