Back to the Index page
Hawnby 6th June 2009
13 members and one guest arrived at Hawnby on a cool breezy morning after heavy overnight rain. One early-arriving member saw a female Goosander and four chicks along the River Rye at Dalicar bridge. Due to the rain the route was altered to avoid some unsuitable paths. From the meeting place at Hawnby church singing Chiffchaff, Robin and Song Thrush were heard. The walk up to Manor Farm produced Dunnock, Woodpigeon, Pheasant, Rook, Carrion Crow and at the farm House Sparrow, Yellowhammer, Swallow and Pied Wagtail. Passing through the fields to Low Wood, Curlew were calling in the valley and one of our target species, Redstart, was heard singing and sighted in a distant tree but seen only by the forward group. On nearing the wood another, or perhaps the same bird, was located and this time all group members had views of this fine summer visitor.
As we entered the wood Jim went to a nearby nest box where two weeks earlier there were six Pied Flycatcher eggs. Fortunately well grown chicks were still there and so we all had excellent views of both male and female birds coming with food to the nest box. Another target species ticked off. As mentioned earlier the heavy rain had left the ground well saturated and so it was decided not to go down the path from the top of the wood towards the river to look for Wood Warbler.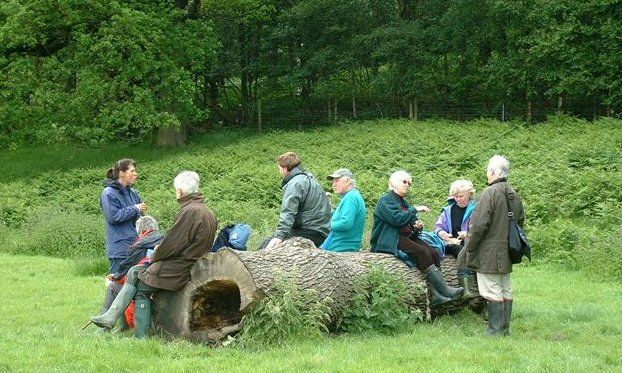 A slow climb up to Hill End saw several members helping reunite two lambs with their mother in another field. Lunch was taken above the valley looking towards Arden Hall, and a Green Woodpecker kindly flew from the fields to the adjacent woodland with Swifts feeding in the lee of the hill. On the walk back to the farm Wren, Willow Warbler, Blackcap and Goldfinch were added to our list.
At the road bridge across the river there were fine views of House Martin and Swallow as they swooped across and along the river and under the bridge. The two riverine species Grey Wagtail and Dipper were both seen carrying food. On the way back to the cars Whitethroat and Great Spotted Woodpecker were heard.
Some of us went up to Murton Grange to see if we were able to see or hear Tree Pipit but this was unsuccessful and at mid-afternoon with the skies still grey and a cool wind we made our way home.
No butterflies were seen although a Common Carpet moth was found in the wood.
Species seen or heard
Birds:
Goosander, Green Woodpecker, Great Spotted Woodpecker, Chiffchaff, Robin, Song Thrush, Wood Pigeon, Pheasant, Rook, Carrion Crow, Dunnock, Chaffinch, Yellowhammer, House Sparrow, Swallow, Pied Wagtail, Red-legged Partridge, Redstart, Pied Flycatcher, Curlew, Goldcrest, Great Tit, Blue Tit, Willow warbler, Wren, Blackcap, Jackdaw, Blackbird, Goldfinch, House Martin, Grey Wagtail, Dipper and Whitethroat.
Moth:
Common Carpet.
Back to the top and Index page
---
© Ryedale Natural History Society 2009; Photo © Tom Denney 2009