Back to the Home page
Sleightholmedale 50th Anniversary Fungus Foray
4th October 2014
Species list below
In 1964 there was a Ryenats Fungal Foray to Sleightolmedale and Gordon Simpson remembers only walking down a tree lined road, and a very fine tea at Cherry Tree Farm! There was no list of the fungi found in the club records.
However Chris Yeates from the YNU kindly sent me a comprehensive list of fungi records from Sleightholmedale for the years 1964-1969. There was only 1 record from 1964 by Willis Bramley, but then many more recorded by W.G. Bramley and others on a foray from 17th-20th September in 1965. This was followed by a foray by the British Mycooglical Society in the spring of 1967 on May 22nd This list includes a great many small and /or aquatic fungi which I would be incapable of identifying but there were also many with which we are familiar. Willis Bramley also wrote a short article in the YNU magazine in 1965 in which he noted 12 species found in Sleightholmedale.
So armed with a composite list I went on one preliminary recce on September 1st and then Melanie Earle and Gill Smith and my husband John accompanied me on another before we met for our Ryenats foray on October 4th. Rain was forecast on the day of the Foray and there were only 7 of us there, but we had a great foray and enjoyed all the cake the rest of you missed!
Overall we found 82 species, 9 of them new to Ryedale!! Many thanks to Melanie for all her identifications. We do not know exactly where the 1964 foray went but from the species on the 1965 list it seems likely they covered some different habitats from the mixed woodland and verges that we covered. Nonetheless 50 years on there are still masses of interesting fungi in Sleighhtolmedale.
We were a bit late in the season for Boletes (the pored fungi) although we found many old specimens along the roadside. Some change colour when they are bruised or cut open and this helps identify them. This one (below left)went distinctly blue green at the base and when the spore size was measured turned out to be Leccinum cyaneobasileucum (which used to be L.aeruginium).
Always keen to find new quick ways of identifying species in the field we investigated a few chemical tests. If you put KOH (potassium hydroxide) onto Lactarius turpis it turns instantly purple (above right). Also in identifying Russulas if you find a dark red capped Russula, under pines, and it has a red stem and yellowish gills try putting a little Ammonia on the broken gills and if it goes pink it is Russula sardonia!
On 28th September there were masses of bright orange Suillus grevillei and dull slimy Suillus viscidus under the larch trees, but by October 4th many of them had gone. Unfortunately also gone was the exciting specimen of Gomphidius glutinosus - the Slimy Spike. This is a very slimy brown capped fungus with thick wide spaced decurrent gills, and a ring like slimy zone on the white stipe which is stained black by fallen spores and which discolours bright yellow at the base. It is rather rare and certainly new to Ryedale. Foolishly we did not take a photo of it but it was also growing under the larch on Sept 28th but we could not find it on Oct 4th!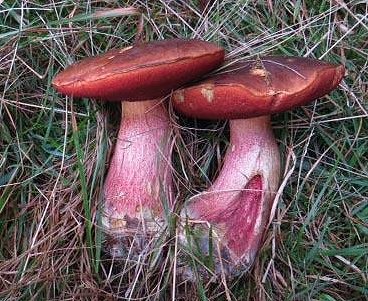 The other Bolete we did find was a group of three beautiful Boletus luridiformis – The Scarletina Bolete, growing in rough grassland along the top edge of the wood.
The most exciting fungus we found in Sleightholmedale was Thelephora penicillata (be;pw). This is an earth fan and consists of an encrusting tuft of spiky branches that starts off as a creamy beige spiky ball which gradually extends to form flattened purplish-brown branches with spiky multi-pointed white tips. We found it at the base of birch and oak trees going up through the woodland and also down by the gate before going over the bridge over the river near Pennyholme.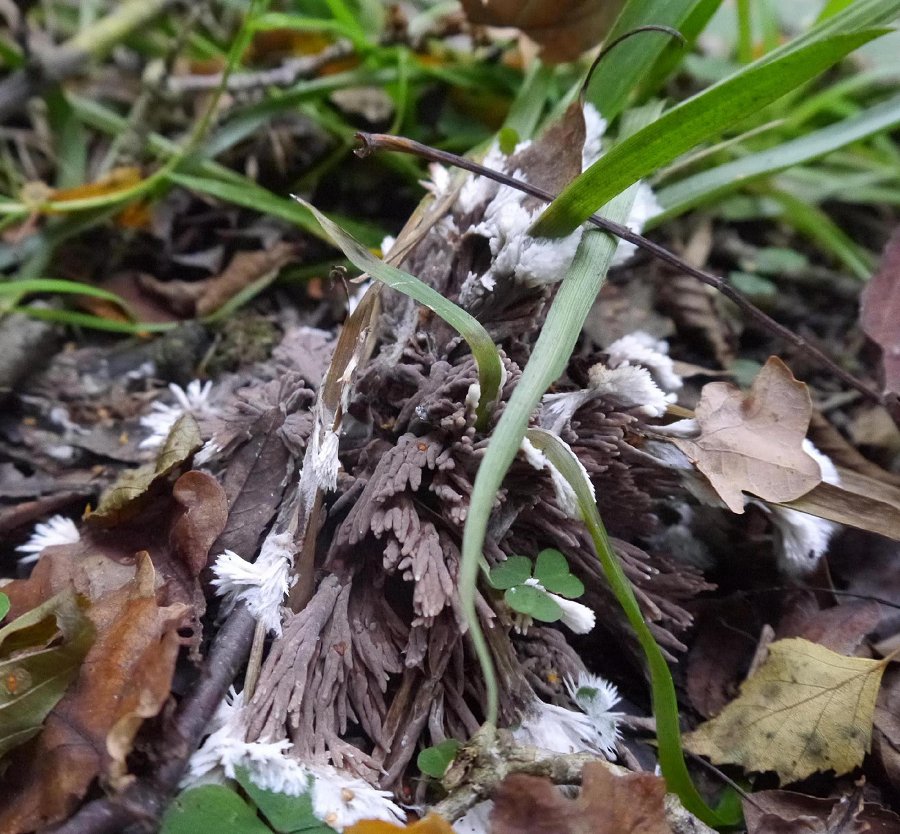 Fungi recorded 2014

| English name | Latin name | Det |
| --- | --- | --- |
| Orange Peel Fungus | Aleuria aurantia | RS |
| False Deathcap | Amanita citrina | RS |
| Tawny Grisette | Amanita fulva | RS |
| Fly Agaric | Amanita muscaria | RS |
| Blusher | Amanita rubescens | RS |
| | Arcyria denudata | RS |
| Honey Fungus | Armillaria mellea | RS |
| Yellow Fieldcap | Bolbitius titubans | RS |
| Bay Bolete | Boletus badius | RS |
| Cep | Boletus edulis | RS |
| Scarletina Bolete | Boletus luridiformis | RS |
| Yellow Stagshorn | Calocera viscosa | RS |
| Chanterelle | Cantharellus cibarius | RS |
| Peppery Bolete | Chalciporus piperatus | RS |
| Wrinkled Club | Clavulina rugosa | ME |
| Yellow Club | Clavulinopsis helvola | ME |
| Fragrant funnel | Clitocybe fragrans | ME |
| Clouded Funnel | Clitocybe nebularis | RS |
| Spotted Toughshank | Collybia maculata | RS |
| | Conocybe brachypodii | ME |
| | Conocybe echinata | ME |
| | Conocybe juniana var sordescens | ME |
| | Coprinellus micaceus | ME |
| Common Inkcap | Coprinopsis atramentarius | RS |
| Hairs foot inkcap | Coprinopsis lagopus | ME |
| | Coprinopsis marcescibilis | ME |
| Common Jelly Spot | Dacrymyces stillatus | RS |
| Hoof Fungus / Tinder Bracket | Fomes fomentarius | RS |
| Slimy Spike | Gomphidius glutinosus | RS |
| Common Rustgill | Gymnopilus penetrans | RS |
| Root Rot | Heterobasidion annosum | RS |
| Blackening Waxcap | Hygrocybe conica | RS |
| Spangle Waxcap | Hygrocybe insipida | ME |
| False Chanterelle | Hygrophoropsis aurantiaca | RS |
| Birch Woodwart | Hypoxylon multiforme | RS |
| | Inocybe curvipes | ME |
| Amethyst Deceiver | Laccaria amethystina | RS |
| Bicoloured Deceiver | Laccaria bicolor | ME |
| Deceiver | Laccaria laccata | RS |
| Weeping Widow | Lacrymaria lacrymabunda | RS |
| Saffron Milkcap | Lactarius deliciosus | RS |
| Coconut Milkcap | Lactarius glyciosmus | RS |
| Mild Milkcap | Lactarius subdulcis | RS |
| Birch Milkcap | Lactarius tabidus | RS |
| Ugly Milkcap | Lactarius turpis | RS |
| | Leccinum cyaneobasileucum | ME |
| Brown Birch Bolete | Leccinum scabrum | RS |
| Orange Birch Bolete | Leccinum versipelle | ME |
| Common Puffball | Lycoperdon perlatum | ME |
| Leaf Parachute | Marasmius epiphyllus | ME |
| Birch Rust | Melampsoridium betulinum | ME |
| Spring Cavalier | Melanoleuca cognata var cognata | RS |
| Common Cavalier | Melanoleuca polioleuca | RS |
| | Mycena acicula | ME |
| | Mycena epipterygia | ME |
| | Mycena pelianthina | ME |
| | Nectria cinnabarina | ME |
| Turf Mottlegill | Panaeolus fimicola | ME |
| Petticoat Mottlegill | Panaeolus papilionaceus | RS |
| | Paneolina foenisecii | ME |
| | Parasola auricoma | ME |
| | Parasola leiocephala | ME |
| | Parasola plicatilis | ME |
| Brown Rollrim | Paxillus involutus | RS |
| Bay Cup | Peziza badia | ME |
| Birch Polypore | Piptoporus betulinus | RS |
| Sycamore Tarspot | Rhytisma acerinum | RS |
| Orange Mosscap | Rickenella fibula | ME |
| | Rickenella fibula | ME |
| Ochre brittlegill | Russula ochroleuca | RS |
| Primrose brittlegill | Russula sardonia | RS |
| Larch Bolete | Suillus grevillei | RS |
| Slippery Jack | Suillus luteus | RS |
| Sticky Bolete | Suillus viscidus | RS |
| | Thelephora penicillata | RS |
| Hairy bracket | Trametes hirsuta | RS |
| Turkeytail | Trametes versicolor | RS |
| Purplepore Bracket | Trichaptum abietinum | RS |
| Birch Knight | Tricholoma fulvum | RS |
| Candlesnuff Fungus | Xylaria hypoxylon | RS |

RS - Rhona Sutherland
ME - Melanie Earle

Fungi recorded 1964 - all seen 2014 also

| English name | Latin name |
| --- | --- |
| nbsp; | Arcyria denudata |
| Chanterelle | Cantharellus cibarius |
| Common Rustgill | Gymnopilus penetrans |
| Root Rot | Heterobasidium annosum |
| Blackening Waxcap | Hygrocybe conica |
| Amethyst Deceiver | Laccaria amethystina |
| Deceiver | Laccaria laccata |
| Weeping Widow | Lactarius glyciomus |
| Mild Milkcap | Lactarius subdulcis |
| Birch Milkcap | Lactarius tabidus |
| Ugly Milkcap | Lactarius turpis |
| Common Puffball | Lycoperdon perlatum |
| nbsp; | Mycena acicula |
| Petticoat Mottlegill | Paneolus papilionaceus |
| Birch Polypore | Piptoporus betulinus |
| Orange Mosscap | Rickenella fibula |
| Ochre brittlegill | Russula ochroleuca |

Taken from Chris Yeates YNU and WG Bramley 1965 and 1985 (RS)
---
| | |
| --- | --- |
| © Ryedale Natural History Society 2014, Photos © Rhona Sutherland & Jayne Smith 2014 | Back to the Home page |