Back to the Index page
Trip to Filey 15th May 2001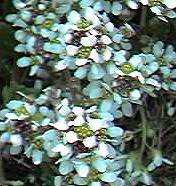 11 members braved the weather for our trip to Filey (the bird reserve at Filey Dams before lunch, and the Brigg in the afternoon when the tide was out). Despite the cold, and drizzle as well before lunch, we recorded over 50 bird species – some of them such as the reed and sedge warblers were heard rather than seen, certainly by most of the party. The highlight was the Iceland Gull which had been at Filey Dams for several days. Unfortunately I only caught a very brief glimpse of it, clearly much whiter than the many herring gulls also present; several lucky people had a much better view of it from the other hide at the Dams... I also recorded my first Bar-tailed Godwit, and only about my second sighting of Sandwich Terns. There were not a great number of plants in flower presumably because of the late spring. We also saw a fox along the edge of the Dams reserve.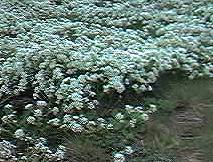 We did see some very lush milkmaids or lady's smocks (Cardamine pratense), and abundant scurvy grass (Cochlearia officinalis) growing on the cliff-top (left, and detail right above). Apparently this plant was eaten by sailors to prevent scurvy – I don't know whether they cooked it, or ate it raw as a sort of salad.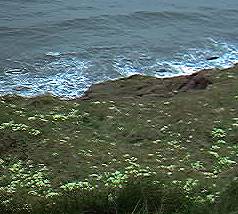 There was also a bank of primroses on a slumped piece of cliff on the north side of the Naze (right).
After lunch in the car park at the top of the cliffs we explored the Brigg. Unfortunately we had to go the long way round as the footpath along Carr Naze had slipped down the cliffs and was closed. Indeed, there had been a great deal of erosion in the boulder clay cliffs as a result of the very wet autumn and winter we have had (see photo left).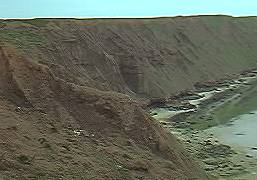 There were plenty of sand martins flying around, presumably nesting in the cliffs, and rock pipits which were "parachuting" while singing, just like meadow pipts! We saw plenty of sea- and shore-birds, and it was quite amazing how quickly the experts picked up birds flying over the sea, and instantly identified them. This is one of the pleasures of a trip like this: I certainly would not have picked out more than about half the species we saw!




There were various seaweeds on the rocks along the Brigg, but without an expert on hand we could not identify them.

Birds


We recorded the following (52) birds: Little Grebe, Fulmar, Gannet, Cormorant, Mute Swan, Mallard, Tufted Duck, Ruddy Duck, Kestrel, Moorhen, Coot, Oystercatcher, Turnstone, Common Sandpiper, Bar-tailed Godwit, Herring Gull, Greater Black-backed Gull, Iceland Gull, Kittiwake, Sandwich Tern, Guillemot, Stock Dove, Woodpigeon, Collared Dove, Swift, Skylark, Swallow, Sand Martin, House Martin, Meadow Pipit, Rock Pipit, White Wagtail, Pied Wagtail, Dunnock, Reed Warbler, Sedge Warbler, Whitethroat, Willow Warbler, Robin, Blackbird, Mistle Thrush, Blue Tit, Yellowhammer, Reed Bunting, Chaffinch, Greenfinch, Linnet, Tree Sparrow, Starling, Magpie, Carrion Crow and Jackdaw.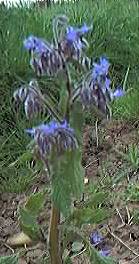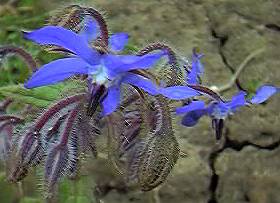 I stayed on after the meeting had finished (I had another, geological meeting to follow) and saw Razorbills and Puffins on the north side of Carr Naze, and also a male wheatear on the cliff-top field who may just have arrived from the sea. I also found a field which was full of borage (Borago officinalis) (left, and detail right) apparently growing as a weed. It was the most incredible intense blue, which the photos do not really bring out.
Gill Smith May 2001
Photos © Gill Smith 2001
---
Back to the Index page

© Ryedale Natural History Society 2001
Page last modified 21st May 2001