Back to the Index page
Dawn Chorus, Manor Vale Kirkbymoorside, May 10th 2008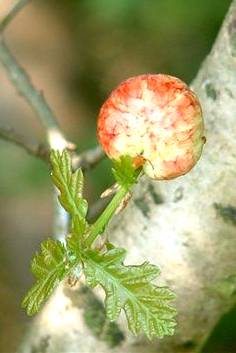 12 members met at 6.00am on Saturday, 10 May in Manor Vale, Kirkbymoorside. The site has been owned since 1993 by the Town Council and is run by a management committee. Don Smith and Tom Denney are Ryenats' representatives on this committee, Don having been involved with the project from the outset. Nan Sykes and Andrew Grayson were also involved with the initial plant and insect lists respectively. The picture is of an oak apple gall on a young oak just coming into leaf. [Ed: The gall is probably caused by the wasp Biorhiza pallida, which has two generations, one asexual (all wingless females), that emerge from galls in the roots, and one sexual generation, that emerge from the bud galls or "apples". These bud galls are usually found in May and grow up to about 30mm diameter. Thanks to Stuart Dunlop for this information.]
The vale is a narrow Y-shaped valley, once part of a mediaeval deer park, at the northern edge of the town. The limestone slopes of the Vale support semi-natural ash woodland, with characteristic plants including field maple, wych elm, dog's mercury, wood speedwell, wood anemone and primrose. A number of uncommon plants of limestone woodlands occur including green hellebore, toothwort and lily-of-the-valley. Two areas of more acidic woodland featuring species such as oak, rowan, silver birch, bilberry and greater woodrush mark outcrops of sandstone.
These oxlips (the false oxlip Primula × polyantha which is a hybrid of primrose and cowslip) were growing on the woodland floor; we also saw goldilocks buttercups.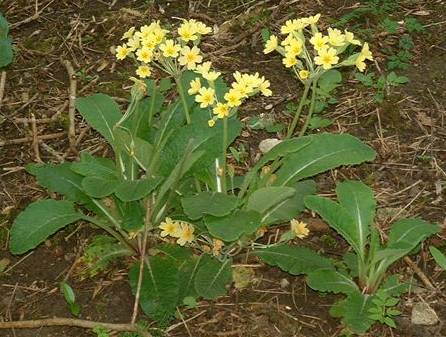 Our visit was to hear the dawn chorus (we were a little late!) which began with all the usual suspects – blackbird, thrush, robin, jackdaw, and wood pigeon. We enjoyed the sight and sound of a song thrush singing mightily from the top of an ash. Then we heard and saw blackcap, heard willow warbler and chiff-chaff, and had good views of a marsh tit feeding on insects in a grassy bank. We also heard nuthatch and spotted flycatcher but did not see either species.
---
© Ryedale Natural History Society 2008; photo © Janet Denney 2008