Back to the Home page
Cropton Pools and Tranmire
20th July 2013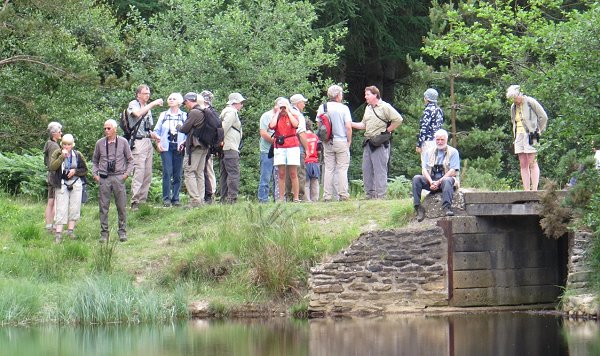 Unbelievably after the heat of the last few days a somewhat overcast morning greeted 23 Ryenats / Yorkshire BDS members at Wheeldale Bridge. While cloudy the temperature was reasonable at around 17 degrees. As the party started to head up towards Cropton Forest Pools, Golden-ringed Dragonfly was quickly spotted along the beck. As well as patrolling males an ovipositing female was spotted and the group were able to stand and watch as she continuously plunged herself in to the shallow water pushing her long ovipositer in to the stream bed to lay eggs.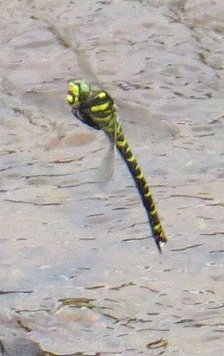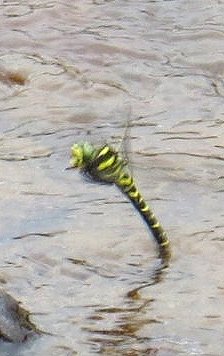 After a while one of the patrolling males grabbed her and flew off into nearby trees to mate again. The group were then diverted to the discovery of a dead water shrew.
As we continued on a number of Ringlet butterflies and a Small Skipper where seen. The roadside verges, which had recently been disturbed by resurfacing work, displayed an array of thistles including Musk Thistle, which was benefitting from the limestone laid by the roadworks. The flattened remains of an adder where also discovered on the tarmac road.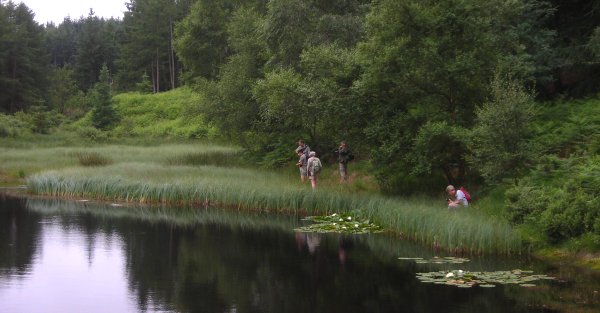 On reaching Cropton Forest Pools many froglets where found close to the pondís edge. The overcast skies meant that dragonfly activity was very subdued and so insects difficult to find. Common Blue Damselfly was caught for closer examination and a male Common Hawker was seen briefly over the pools, Tom extracted a discarded toy from the edge of the pools only to find a half grown hawker dragonfly larva clinging to it. This was potted and passed round for all to see. On the path near the pools an interesting orchid was seen, thought to be a hubrid between common spotted and northern marsh.

The party then headed back to Wheeldale Bridge for lunch and while sitting by the beck enjoyed a pair of Grey Wagtails flitting and catching insects for their brood of 3 in a nest under the bridge.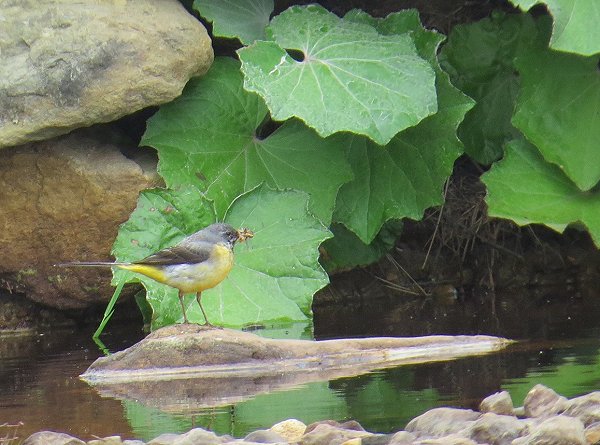 As this meeting coincided with the start of the British Dragonfly Society's National Dragonfly Week and its 30th Anniversary all members of the group that had stopped for lunch enjoyed a piece of celebratory cake.
After lunch, still with cloudy skies, the group investigated Tranmire Bog where Keeled Skimmer breeds. Unfortunately no dragonflies were identified. However the bog had a good floral display of Bog Asphodel and Round Leaved Sundew. Whinchat was also spotted on a post nearby.

A smaller party then travelled on to Goathland Tarn. Here a number of damselflies were seen and caught for closer inspection but again the cool cloudy weather prevented much activity. We did however see a beautiful green caterpiller, later identified as Red Sword-grass Xylena vetusta - thanks to Stuart Dunlop.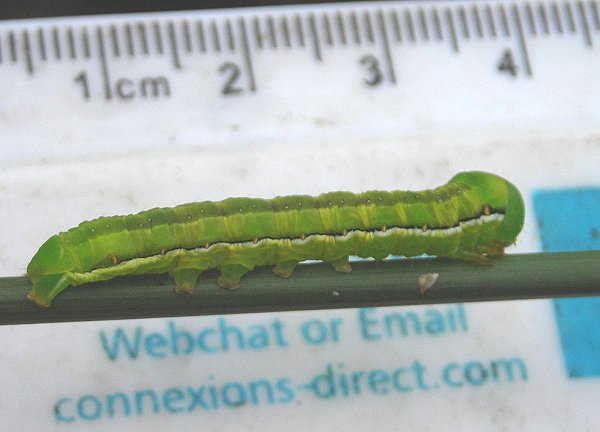 A brief sortie on to Fen Bog ended the day, but again was fruitless for dragonflies. A number of butterflies were seen but the highlight here was probably a pair of redpoll, the male showing his reddish forehead and chest off beautifully.
---
Dragonflies / damselflies for the day
Tranmire/Cropton
Golden-ringed Dragonfly
Common Hawker
Common Blue Damselfly

Goathland Tarn
Common Darter
Emerald Damselfly
Blue-tailed Damselfly
Large Red Damselfly
not sure whether we had Common Blue Damselfly here as well?
Butterflies and moths (thanks to Graham Featherstone)
Cropton pond area
Ringlets
Small heath
Small skipper
Common blue
Small pearl bordered fritillary

Bordered white moth
Smoky wave
Brown china mark
Silver Y
Caterpillar on thistle

Fen bog
Ringlet
Meadow brown
Small skipper
Small heath
Dark green fritillary

Pearl band grass veneer
Smoky wave

---
| | |
| --- | --- |
| © Ryedale Natural History Society 2013, Photos © Ryedale Natural History Society, Gill Smith, Jayne Smith 2013 | Back to the Home page |