Back to the Home page
Upper Bransdale May 2nd 2010
This was an extra meeting arranged because we thought the bluebells would be out along with other late spring flowers, and that it would be a lovely warm spring day.... in fact it was cold with hail showers (the temperature recorded by the car was 4.5°C when we got back about 3pm!). Consequently only a brave few (Nan, myself and Andrew) braved the elements, but it was an interesting trip and worthwhile for me at least as I saw a new plant – beech fern (Phegopteris connectilis) – seen below on the banks of a steep gill on the east side of the main beck.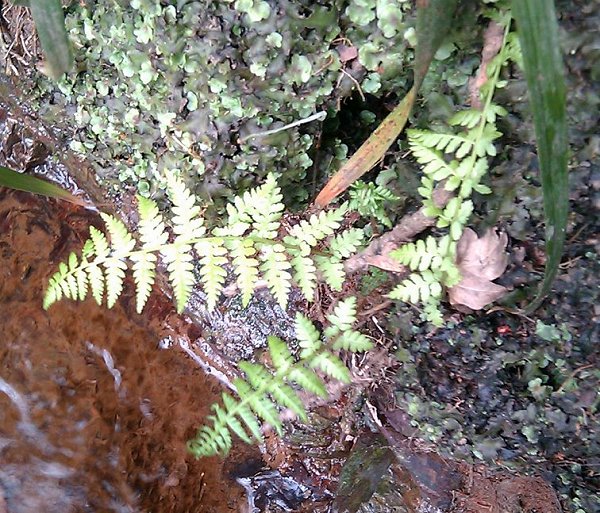 This is a small fern that grows on the steep, shady slopes of upland gills and becks, notably near the road bridge at 616982. Although its fronds were not fully grown this early in the season, the typical grassy green colour is evident, and the characteristic backward-pointing lower pair of leaflets are starting to developl even fully grown the fronds are only about 8" long.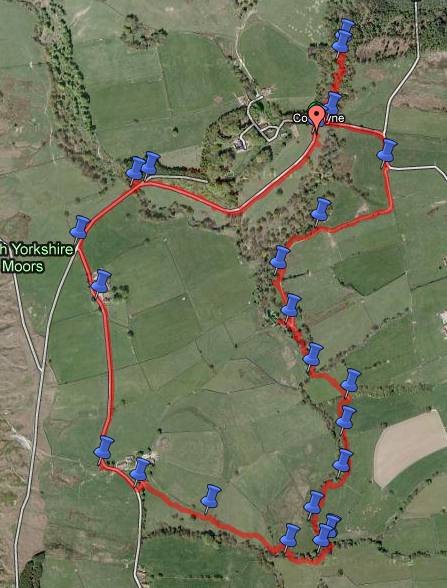 The trip also gave me the excuse to try out my new GPS track-maker – which allows me to produce maps such as this on Google Maps (click here for the interactive version). We walked the loop anti-clockwise from the cattle grid at Cockayne, passing the bluebell wood on our right at the start, following the road for a mile or so to Colt House Farm before following the footpath across the fields to the river, then back via the mill. The land is semi-improved acid grassland with plants such as sorrel and pignut, but after the cold winter it was too early to see many flowers. One notable plant was the escaped American skunk cabbage which had got away from the old garden further upstream, washed down in a flood.
Before returning to the cars we had a short walk into the old, abandoned "pleasure garden"laid out for Lady Feversham in the 19th century, which contains a bizarre mix of native flora and introduced plants including some quite exotic ones like Gunnera (which looks like a giant rhubarb), the altogether more delicate pink purslane – not yet in flower – and American skunk cabbage Lysichiton americanus that has colonised a large area of swampy ground.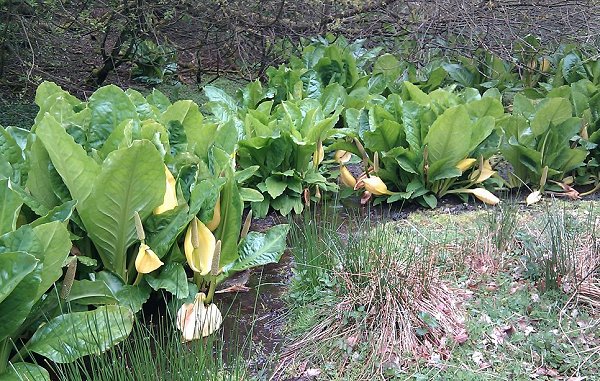 This plant is an arum like our native lords-and-ladies, but enormous with leaves well over a foot long; the striking yellow flowers are attractive to look at, but do have a strong, unpleasant smell as might be guessed from the name! We noticed one plant that had escaped to below the mill, and I have had one reported from considerably further downstream in Kirkdale. My guess is that this washed out in the big floods a couple of years ago. I hope that this plant doesn't start taking over in the manner of Himalayan Balsam!
Species lists
I didn't make a botanical list as this wasn't an official meeting and it was cold and wet (plus there weren't actually all that many things in flower). There were a few birds singing and we saw a couple of swallows near the mill. Andrew found a few insects but again the cold and damp meant they were not much in evidence. We saw a few dung-flies on the sheep droppings, and one or two flies resting on sheltered walls, one bumblebee and a small hoverfly that Andrew took home to identify; that was about it! And one big, black slug.
Andrew later sent me his notes:
Last night I used a microscope to identify the 4 flies from the Bransdale walk. They are some of the most common species to be found in Britain. My meagre list is therefore thus:
DIPTERA ['TRUE FLIES']
Melanostoma mellinum [a 'hoverfly']: SE620973 & SE622982.
Sylvicola punctatus [distantly related to 'crane-flies']: SE622973.
Dilophus febrilis [a 'fever-fly']: SE622973.
HYMENOPTERA [ANTS, BEES, WASPS, ETC.]
Bombus lucorum [a 'bumblebee']: SE6198.
SLUG
Arion ater: SE6197.
MAMMALS
Mole: SE6297. [molehills, not the animal itself]
BIRDS
Common Buzzard: SE6198 & SE6197.
Common Pheasant: SE6197.
Lapwing: SE6197.
Collared Dove: SE6197.
Curlew: SE6197.
Wood Pideon: SE6297.
Coal Tit: SE6297.
Swallow: SE6298.
[...to which I can add these]:
Wren
Chiffchaff
Chaffinch
Blue tit
Starling (flying over)
Blackcap (in old garden)
and a raptor seen in the distance that was probably a sparrowhawk but I hoped might be a goshawk!
---
© Ryedale Natural History Society 2010
Back to the Home page