Back to the Home page
Moorland Birds, Blakey
24th April 2013
Having cancelled the event in 2012 owing to torrential rain on the day, it was with fingers crossed that the forecast rain for this year's event would hold off long enough for the walk to take place. Any such fears, though, were quickly dispelled when eight members met in the car park of the Blakey Lion Inn for an evening walk in what turned out to be near perfect conditions.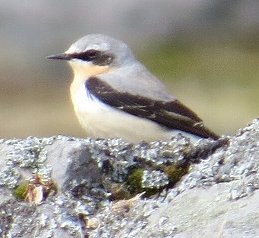 From the Lion Inn we dropped into Rosedale to the disused railway track and heard the mournful piping of a distant Golden Plover. On the track we sighted two male Ring Ouzels a little way down the dale. Walking along the track towards Blakey Crossing we stopped to look at a Ring Ouzel nest that the leader said had been used last year and which had been constructed on top of an older nest that had probably been built in 2011. Continuing on our way we heard the distinct drumming of a Snipe, the sound being made when the air passes through the outstretched tail feathers. Crossing the moorland road at Blakey Crossing we picked up the disused railway track that wends its way around Farndale. With the light fading we were treated to a close-up view of a Northern Wheatear just before we turned off the track to take the path that brought us back to our start and for some a welcome drop of refreshment.

In all 10 species of birds were recorded: Curlew, Golden Plover, Lapwing, Meadow Pipit, Pheasant, Pied Wagtail, Red Grouse, Ring Ouzel, Snipe and Wheatear (right).




| | |
| --- | --- |
| Ouzel nest from last year (built on top of previous nest) | Ryenats members on old railway |
---
© Ryedale Natural History Society 2013, Photos © Ryedale Natural History Society and Nick Fraser 2013
Back to the Home page