Back to the Home page
Arkengarthdale Black Grouse Lek
29th March 2014
A very early start for two members and two guests to catch the amazing spectacle of the black grouse lek in the Yorkshire Dales. And as we all know the vagaries of nature does not guarantee a result. However, we were not to be disappointed. This morning proved to be very fruitful despite the thick low cloud.
We briefly paused at Stang House at about 6am and immediately picked up a singing male ring ouzel, which is one of the first migrants of the season to return to the moors.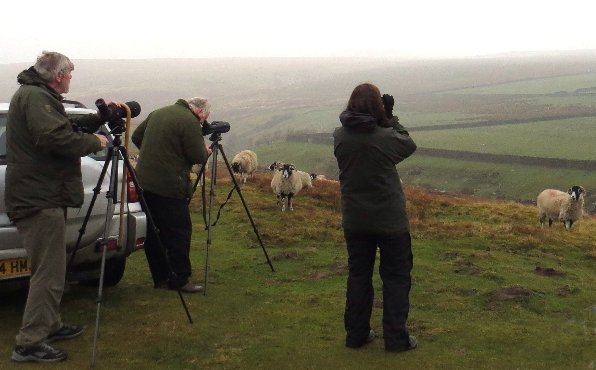 At the main site near Shaw farm we had enough visibility to see the pastures favoured by the black grouse which were occupied by curlew, lapwing, pheasant and a pair of oyster catchers. Snipe were airborne around us and at one stage we had four in close proximity with one drumming. Eight golden plover were recorded during one fly past.

After about an hour the black grouse made their appearance. Initially they were in one pasture, recording five males and three females. We got the odd male chasing a female and males fronting up other males in full display with the accompanied vocals. At one stage we had two males in battle actually making contact with each other. There was also the curious happening of both male and female black grouse independently perched on walls? Towards the end we had two groups, a small group of four in one pasture and another larger group of nine in a top pasture. The scopes were a very welcome addition.

The following birds were recorded: black grouse, red grouse, pheasant, oyster catcher, snipe, golden plover, ring ouzel, lapwing, skylark, meadow pipit, starling, lesser black backed gull.

At 8am we departed with our leader and guest going to Tan Hill Inn for a well deserved breakfast. However, en route they picked up a second lek to the south west of the first. They also had two redshank courting south of Tan Hill. Along Wensleydale south of Middleham there were three sand martins, coal tit, long tailed tit, goldcrest, heron, wigeon and chiffchaff. Finally at Nosterfield there were tufted duck, goldeneye, wigeon and teal.

A richly rewarding trip and well worth the effort.
---
| | |
| --- | --- |
| © Ryedale Natural History Society 2014. Photo © Photo Jayne Smith 2014 | Back to the Home page |