Back to the Index page
Barbecue and Grasses Tutorial Sykes House 3 July 2010
hosted by Tom and Janet Denney, Tutorial by Gill Smith
Some 20+ members and guests attended the barbecue at Sykes House, kindly hosted once again by Tom and Janet Denney in their beautiful garden. It was a fine, dry summer's evening with a welcome breeze which kept the midges down. Adrian Smith gained his proficiency certificate in the skills of parking attendant. Well done Adrian.
Early comers assembled for a grasses tutorial/workshop expertly given by Gill Smith who had gathered specimens from around the grounds. There was one incomer in the form of yellow oat grass brought in from Rosedale where it was growing on the roadside – probably brought in with the roadstone as this species is a lime lover. The tutorial was very well received despite Timothy playing hide and seek. [Ed: Timothy grass appeared in profusion the following week!]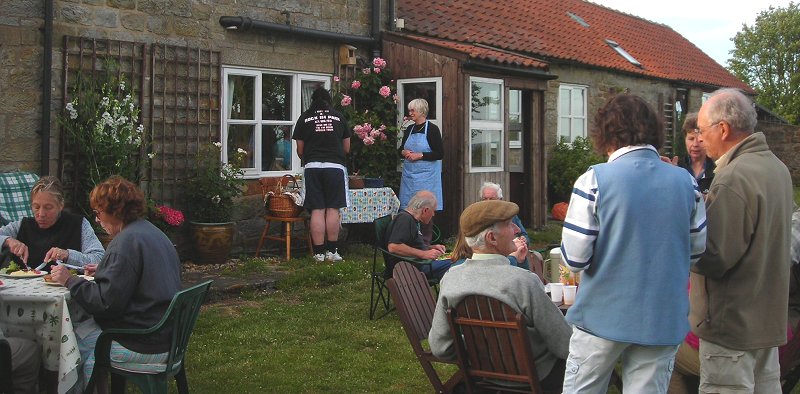 The tutorial was followed by the tasty barbecue, accompanied by home-grown salad direct from the Denneys' garden, and rounded off with home-made cakes. Tom had on display an abandoned nest he found recently in ring ouzel territory at Ousegill containing 11 eggs. He explained that the nest was believed to be that of a blackbird but the eggs were quite obviously from two different clutches, one perhaps being a blackbird's and the other the ring ouzel's. Sadly of course neither clutch hatched and we shall never know for sure.
Heading towards darkness Tom led a party on a walk down to the Intake in the hope of hearing nightjars but alas, we were not so lucky (it was a bit too early). However, we were delighted to re-find the lesser butterfly orchid doing well with at least 6 flowering spikes, as well as fragrant, common spotted and heath spotted orchids, plus twayblades. Petty whin and bog asphodel were also in flower as were beautiful St. Johnswort, a few plants of chickweed wintergreen, and cross-leaved heath including a white form. Some members of the party found several different sedges including flea sedge. All in all, much the same list as when we visited in 2002.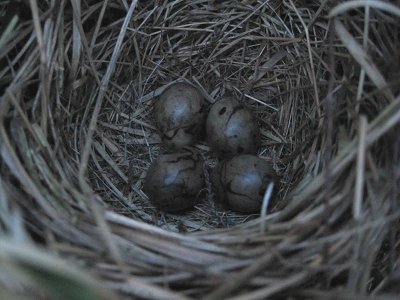 On the bird front we were surprised to see a curlew perched at the top of a hawthorn tree. We were delighted to hear that Tom's swallows and spotted flycatchers had fledged successfully, and heard (and saw) a tree pipit singing. We were very privileged to spot one of their nests, tucked in under a clump of heather. Sorry for the quality of the picture, but the light was bad and the flash was turned off so as to cause the least disturbance to the adult bird – and we only had a very quick peek before leaving the nest to allow the parent bird to return.
A great evening in a fabulous setting. Our thanks were given to Tom and Janet (and helpers) for being such wonderful hosts.
When most of the guests had departed the Denneys and the Smith family did hear a distant nightjar. Even more exciting for Tom, he flushed a nightjar whilst out walking on the moor a few days later.
---
© Ryedale Natural History Society and Gill Smith 2010
Back to the Home page