Back to the Home page
Ashberry/Nettledale Fungus Foray
12th October 2013
Species list below
14 of us met on the Rievaulx to Scawton road where the Cleveland Way leaves the road and heads west beside a small stream. We clambered along a slope of a bank of Oak, Birch, Rowan, Holly and Apple. The path then passes two small lakes before opening out to a patch of grassland where the stream goes north west while we followed the path along a dry valley west for a while at first between conifers and then past a large patch of beeches. We found different fungi in all three habitats and with Melanie's expert help we finally identified 69 species.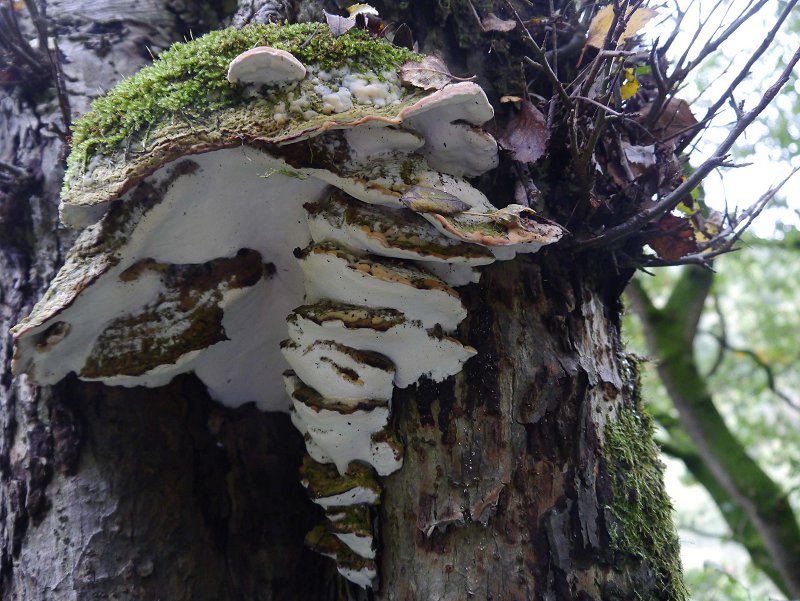 Unfortunately we have not yet identified the bracket fungus pictured above and it is providing an intriguing puzzle. We puzzled for some time on the identity of the tree itself, thinking it was some kind of thornless Prunus, perhaps a Damson or possibly an Apple. Gill and Keith later found another tree they thought was the same which did have apples under it so we are now thinking this one was also an apple.We still have to identify the fungus. You would think such a dramatic tiered Bracket would be easy to pin point but thatís the trouble and fascination of fungi. They look so different at different stages in their life cycle or following different weather patterns.
Several fallen birch logs were covered with beautiful tufts of bright orange/brown fungi called Sheathed Woodtuft (Kuehneromyces mutabilis) and these too look different depending on their age and stage of decomposition.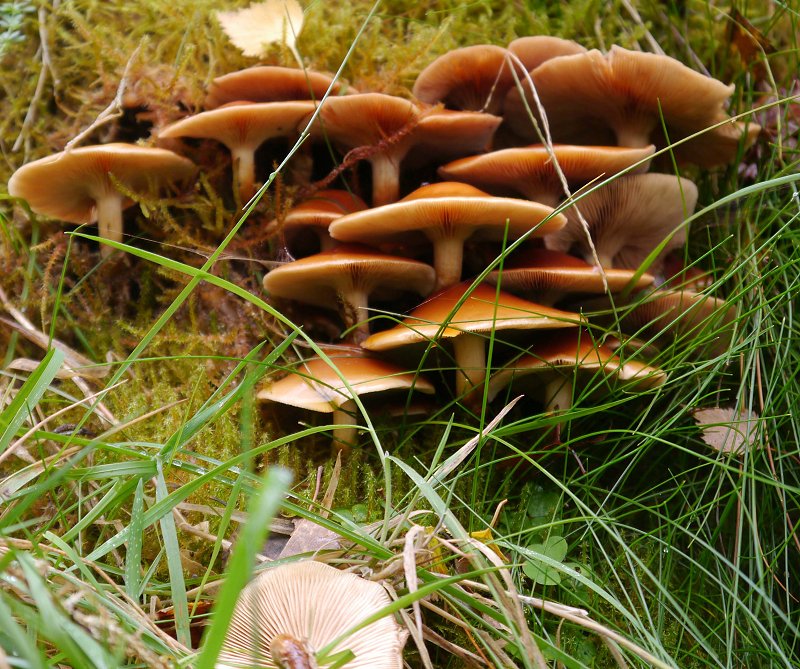 Gill found some beautiful Hedgehog mushrooms (Hydnum repandum) and we had one in an omelette that evening. It was delicious! The patch of grassland further on was full of Stubble Rosegills (Volvopluteus gloiocephala). These are striking tall beige-grey fungi with a sac-like volva at their base which makes you think of the genus Amanita but there is no ring on the stipe and they have pink gills. These yield pink spores, not white like Amanita species.
Under the pines and cypress trees there was no vegetation at all but plenty of fungi. There were Russula, Lactarius, Clitocybe, Mycena and Collybia species as well as masses of Shaggy Parasol mushrooms (Chlorophyllum rachodes), and even some Wood blewits (Lepista nuda). As we climbed the bank into the Beech woodland I was delighted to find several specimens of a large coffee-coloured cup fungus, an Ascomycetye called Palamino Cup (Peziza repanda). A new Ryenats member, David Lewis, took the lovely picture of this.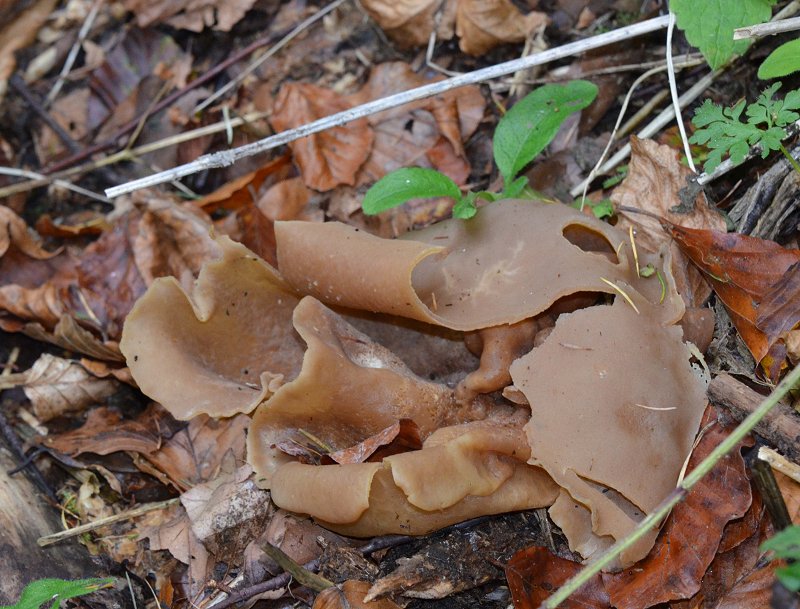 Species list
| | | |
| --- | --- | --- |
| Amanita citrina | False Deathcap | RS |
| Amanita fulva | Tawny Grisette | RS |
| Amanita muscaria | Fly Agaric | RS |
| Armillaria mellea | Honey Fungus | RS |
| Bisporella citrina | Lemon Disco | RS |
| Bolbitius titubans | Yellow Fieldcap | RS |
| Calocera pallidospathulata | Pale Stagshorn | RS |
| Calocera viscosa | Yellow Stagshorn | RS |
| Chlorociboria sp | | ME |
| Chlorophyllum rachodes | Shaggy Parasol | RS |
| Clitocybe nebularis | Clouded Funnel | RS |
| Clitocybe odora | Aniseed Funnel | RS |
| Coprinellus disseminatus | Fairy Inkcap | RS |
| Coprinopsis lagopus | | ME |
| Crepidotus variabilis | Variable Oysterling | RS |
| Daedalea quercina | Oak Mazegill | RS |
| Daedaleopsis confragosa | Blushing Bracket | RS |
| Alboleptonia sericella | | ME |
| Entoloma confederendum | | ME |
| Entoloma rhodopolium | | RS |
| Fomes fomentarius | Hoof Fungus / Tinder Bracket | RS |
| Galerina atkinsoniana | | ME |
| Galerina clavata | | ME |
| Gymnopilus penetrans | Common Rustgill | RS |
| Gymnopus confluens | | ME |
| Gymnopus peronatus | Wood Woollyfoot | RS |
| Hemimycena tortuosa | | ME |
| Hydnum repandum | Wood Hedgehog | RS |
| Hypholoma fasciculare | Sulphur Tuft | RS |
| Kuehneromyces mutabilis | Sheathed Woodtuft | RS |
| Laccaria amethystina | Amethyst Deceiver | RS |
| Laccaria laccata | Deceiver | RS |
| Lactarius blennius | Beech Milkcap | RS |
| Lactarius subdulcis | Mild Milkcap | RS |
| Lactarius tabidus | Birch Milkcap | RS |
| Lactarius vietus | Grey Milkcap | RS |
| Lepista nuda | Wood Blewit | RS |
| Lycogala terrestre | | RS |
| Lycoperdon nigrescens | Dusky Puffball | RS |
| Lycoperdon perlatum | Common Puffball | RS |
| Mycena arcangeliana | Angel's Bonnet | RS |
| Mycena epipterygia | Yellowleg Bonnet | ME |
| Mycena galericulata | Common Bonnet | RS |
| Mycena inclinata | Clustered Bonnet | RS |
| Nectria cinnabarina | Coral Spot | ME |
| Nectria cinnabarina | Coral Spot | RS |
| Paxillus involutus | Brown Rollrim | RS |
| Peziza repanda | Palamino Cup | RS |
| Phallus impudicus | Stinkhorn | RS |
| Pholiota squarrosa | Shaggy Scalycap | RS |
| Piptoporus betulinus | Birch Polypore | RS |
| Plicaturopsis crispa | | RS |
| Pluteus pouzarianus | | ME |
| Polyporus leptocephalus | Blackfoot Polypore | RS |
| Postia caesia | Conifer Blueing Bracket | RS |
| Psathyrella corrugis | Red Edge Brittlestem | ME |
| Psathyrella fibrillosa | | ME |
| Psathyrella pseudogracilis | | ME |
| Rhodocollybia butyracea | Butter Cap | RS |
| Rhytisma acerinum | Sycamore Tarspot | RS |
| Russula nigricans | | ME |
| Russula ochroleuca | Ochre Brittlegill | RS |
| Stereum hirsutum | Hairy Curtain Crust | RS |
| Tubaria conspersa | | ME |
| Volvopluteus gloiocephalus | Stubble Rosegill | RS |
| Xerocomellus pruinatus | Matt Bolete | RS |
| Xylaria hypoxylon | Candlesnuff Fungus | RS |
RS = Rhona Sutherland
ME = Melanie Earle
---
| | |
| --- | --- |
| © Ryedale Natural History Society 2013, Photos © Rhona Sutherlalnd & David Lewis 2013 | Back to the Home page |