Back to the Index page
Castle Howard Arboretum 19th October 2004
Despite the trepidations of the secretary (who still remembers Bridlington), there was a turnout of 23 members for the visit to the Arboretum, on a fine autumn day. We were met by Neil Batty, leading Arborist, who first explained the history behind the arboretum, before taking us on a near three-hour tour.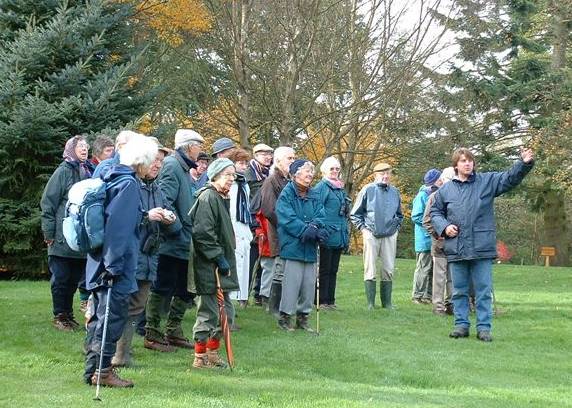 Neil Batty (right) showing the group around
The arboretum began to be created in the seventies following success taking the major Sunningdale Collection from Surrey to nearby Ray Wood. The collection was primarily of rhododendrons, and formed by James Russell who came to live and work at Castle Howard. Many of the plants are of historical importance, being direct descendants original 19thC introductions. Russell and hte late Lord Howard starting planting the in 1975 to form the present arboretum. They shared a vision to create one of the most comprehensive collections of hardy woody plants in Europe. It consists of 130 acres Howardian Hills is landscaped on a grand scale. There are different soil types in a shallow valley, plus a kind climate afforded by the surrounding rolling hills. Because of the botanical importance of the extensive collections of woody plants held in both the arboretum and in the woodland garden in Ray Wood, a joint charitable trust has been formed between Castle Howard and the Royal Botanic Gardens, Kew, to safeguard the future of the collections.
The specific tree species pointed out to us were too many to mention individually, but to back up the advantageous climate we were shown a thriving Southern Chinese Birch, only discovered in Guizhou Province in 1985, and thought not to be hardy enough for mainland Britain. Of course most of the trees come from exotic overseas locations but it was interesting to learn that Britain also has unique trees, and we were shown a whitebeam that is only found in two locations in the Brecon Beacons, and nowhere else in the world.
Neil's tour was interesting, enlightening, often humorous and also covered natural history other than trees; for example barn owls are being encouraged and are doing well in the arboretum. In contrast, after some years of uneasy peace, a zero tolerance policy is now being adopted against many of our furry friends, and when we saw the damage a hare had caused to a rare and beautiful acer, one could understand why.
Obviously we did not see everything on our walk, and the arboretum would be well worth other visits if only to enjoy a beautiful walk in lovely countryside. In fact it was suggested that Ryenats should consider another visit in spring and perhaps go to see Ray Wood at the same time.
Tom Denney
[Ed: The Castle Howard Arboretum is open to the public from March to November (see http://www.kewatch.co.uk/) .]